Enjoy a restaurant experience at home during lockdown
A 5 course seasonal menu, delivered ready-to-eat fortnightly January & February
Next event: Friday 29 and Saturday 30 January 2021
Use the online form by each menu to enquire, giving your post code and preferred delivery slot along with any dietary requirements. We'll be in touch shortly to confirm the arrangements.
Payment can be made in advance or cash and card payments can be made when we deliver
We deliver within a 3 mile radius of Petersfield
We'll deliver at the agreed time slot. To ensure quality of the main course, we recommend you set your oven to 150 degrees 15 minutes before our arrival.
Place the main course in the oven, along with your dinner plates whilst you enjoy the first courses
Plan a special and relaxing evening at home during January & February this year and let us cook for you. Our menu will change each fortnight, offering a welcome treat and freshly cooked restaurant dishes
We endeavour to cater for any special requirements, please use the contact form on your chosen date below and let's start a conversation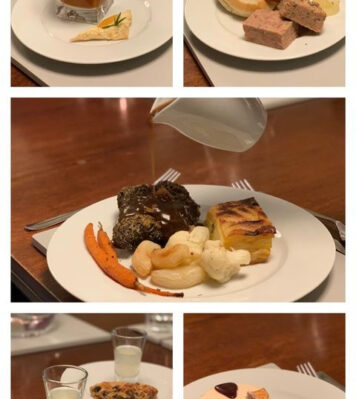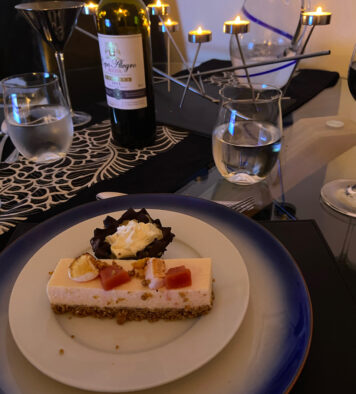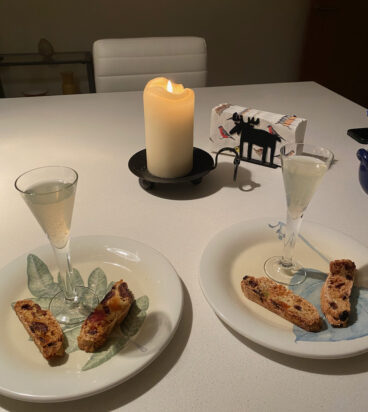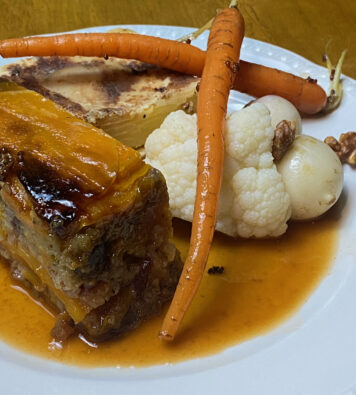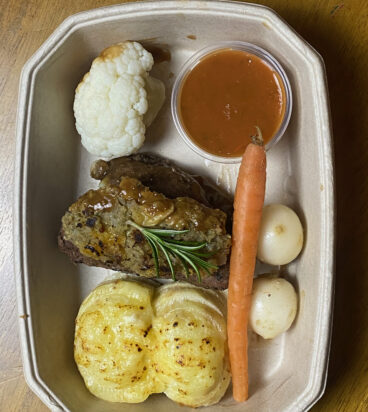 Friday 12th & Saturday 13th March - Mother's Day Special
Pre-booked time slots are available on either Friday 12th or Saturday 13th March for this 5 course seasonal restaurant meal. Orders should be placed by 10pm Thursday 11th March 2021
AMUSE-BOUCHE
Mini beef & horseradish Yorkshire pudding
(vegetarian alternative available)
STARTER
Colin's seasonal Gnocchi tricolour, beetroot velouté, super grain salad and pomegranate seeds
LE COURS DE POISSON
Pulled mackerel, dill crème fraîche, flat bread
MAIN COURSE
Paul's slow braised pork belly, colcannon black pudding potato croquette, dehydrated pears, apple gel, truffled seasonal greens & Cornish style Hazy Hog cider gravy
(vegetarian) Stuffed vine leaves, filled with pine nuts, ricotta, oomph, cherry tomatoes, and colcannon potato croquette, truffled seasonal greens and spinach and onion velouté
DESSERT
Jake's White chocolate mousse & melon terrine, maple bacon crumb, glazed fig & mango compote
Friday 26th & Saturday 27th March
Pre-booked time slots are available on either Friday 26th or Saturday 27th March for this 5 course seasonal restaurant meal. Orders should be placed by 10pm Thursday 25th March 2021
AMUSE-BOUCHE
Grilled broccoli with satay sauce & sesame seeds
STARTER
Crab mousse with homemade flatbread fresh salsa
(vegetarian) Baked avocado stuffed with red pepper goats cheese mix seeds crumb gucomole and rocket
MAIN COURSE
Veal escalope with steak Diane mushroom sauce, seasonal vegetables & marquis potato
(vegetarian) Paul's lentil loaf, with seasonal vegetables & marquis potato
DESSERT
Jacob's Rocky Road with mint sablé biscuit crumb & strawberry cream
Petit Four
Homemade fudge, caramelised grapes